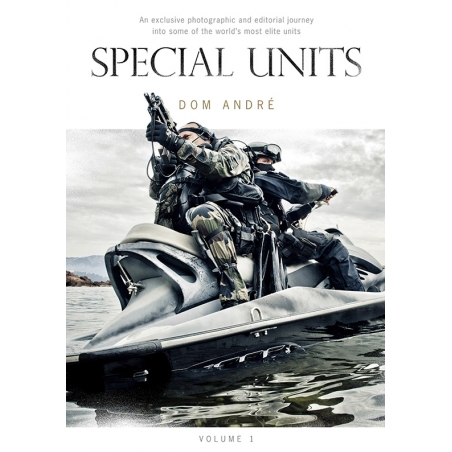  
Dom André has been traveling around the world for about ten years, photographing some elite military and law enforcement units
among the most operational.

For the first time, he presents 28 of these special units through 500 photos in a single book: PI2G (France), DPR (Switzerland), GIGG (Switzerland), RAID (France), GPI Guadeloupe (France), GIPN (France), Commando Hubert (France), STAR (Singapore), DSU (Belgium), Las Vegas Metro PD SWAT (USA), Las Vegas Metro PD Search & Rescue (USA), CORE (Brazil), Col Moschin (Italy), Vancouver ERT (Canada), TEK (Hungary), LASD SEB (USA), BSIJ (Romania), GRUMEC (Brazil), Monte Cervino (Italy), ZJ (Czech Republic), US Marshals SOG (USA), SFG (Belgium), COBRA (Austria), BORTAC (USA), ATF SRT (USA), NOCS (Italy), RCMP ERT (Canada), EULEX IG (European Union).

Texts written by the operators illustrate the photos, allowing the reader to get into the minds and the day to day life of these exceptional men. Some of the units will be more familiar to you than others, but you will have the pleasure of traveling from one country to another, from one team to another, and from one discovery to another. The common thread will be the professionalism, the dedication and the motivation of every unit presented

In this book you can learn about the very closed world of operational units: you will fly over the Grand Canyon in a helicopter, patrol the favelas in Rio, dive with combat frogmen and smell the powder of explosions. But more especially, you will discover these very unusual men who are ready to put their lives in danger in order to save yours and those of your nearest and dearest.